Compliant content isn't the right thing to do.
It's a legal necessity
Mitigate your risk and upgrade your WYSIWYG with a compliant editor and 57+ features
Get Compliant Content
Productivity + Compliance Plugin Suite
Our Professional Plan is the leading WYSIWYG productivity and compliance plugin-suite used by teams who value accessibility, productivity, legal and brand compliance.
With advanced rich text editing features like Accessibility Checker, Spell Checker Pro, Link Checker and PowerPaste, it streamlines and simplifies the process of making websites accessible for users with disabilities, and ensures WCAG compliance.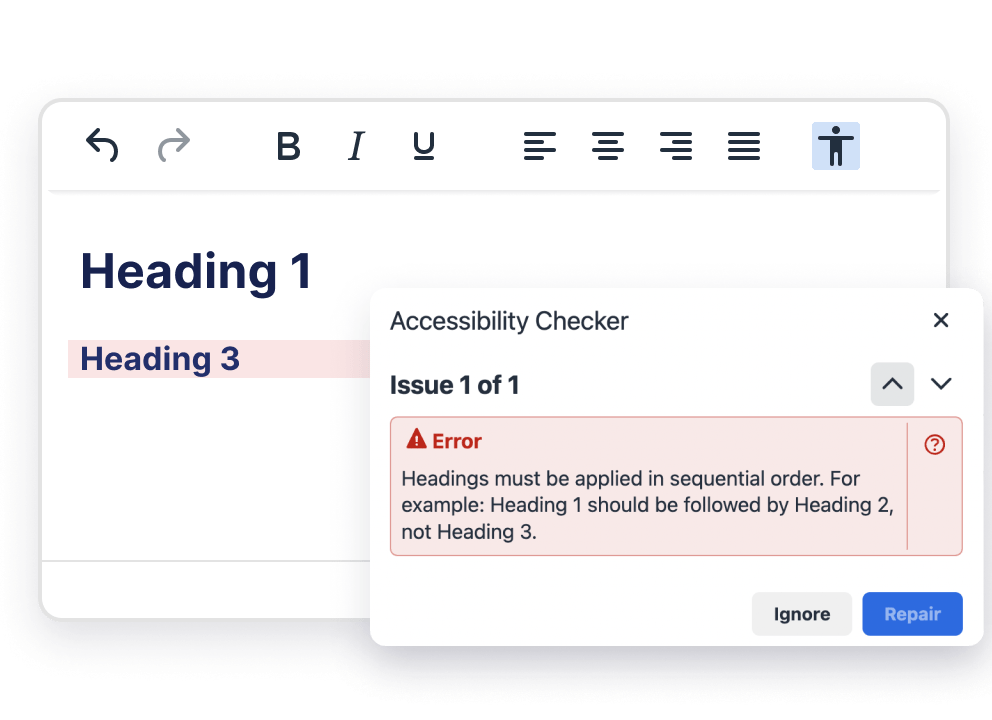 Why upgrade or replace your WYSIWYG
with our Professional Plan of productivity
and compliance plugins?
Here's one powerful reason
PowerPaste is 99.9% accurate = less support tickets
Helps SaaS companies, large enterprises, content
creators and publishers produce compliant content

What are the Professional
Plan features?
How does it work?
Upgrade or replace your WYSIWYG
editor: Buy-assemble-and-build
If you already have an app or website, there's no need to start from scratch. The TinyMCE WYSIWYG component is easy to integrate.
Deploy the enterprise-grade core editor, pair it with advanced, professional-grade plugins - either through our 400+ APIs or coding - and customize parts (if needed). Regardless of your use-case, edge-case or industry, it easily replaces whatever rich text editor you're currently using, or takes the place of a textarea, textbox, or other planned text entry component on a page.
Or, if you're using a particular framework, TinyMCE is designed to integrate into a variety of frameworks and use cases.
The Professional Plan is used through Tiny Cloud, so it automatically updates to the latest functionality when new versions are released. (It's one of the methods we use to reduce development pressure.)
Send this to my Product Team
Six more reasons to upgrade or replace
your WYSIWYG with our Professional Plan
of productivity and compliance plugins
Increased productivity
Decrease support tickets by up to 90%[1]
Reduce content creation time by 90%[4]
Deeper engagement
Increase the user engagement of a platform by 85%[2]
Increase customer gross retention and net retention[5]
Accelerated outputs
Increase developer velocity and save hundreds of thousands of dollars a year[3]
Save end users 10+ years when creating content[6]
Trusted by 1.5+ million developers.
Loved by 100m+ product users.
19+ WYSIWYG premium features in the Professional Plan
Six of the most popular features
Clean copy-and-paste = less support tickets
Cleanly copy-pastes content from Word, Excel and Google Docs

Has helped dev teams decrease support tickets by 40%

Automatically cleans up rogue formatting in pasted content

Option to strip or preserve advanced formatting

Underlying HTML code doesn't break

99.9% accuracy rate
What's included in the Professional Plan?
The world's most trusted
WYSIWYG component
Adds velocity to tech stacks, powers millions of projects worldwide and helps developers build and ship projects faster.
Your Professional Plan at $90 USD per month, includes:
FREE 14-day Trial
TinyMCE core editor

37+ core plugins

Trial of all 21+ Premium plugins (Cloud)
Ongoing Yearly Subscription
TinyMCE core editor (Free)

37+ core plugins (Free)

Cloud-based deployment

14+ Productivity plugins

5+ Compliance plugins

10,000 editor loads p/mth
Full CSS control

2 online support tickets per/mth

1 domain

Commercial License
Perfect for increasing teams' productivity, customer engagement and legal compliance.
Over 100M+ products worldwide grow
their business by using TinyMCE
Easy integration with 12+ frameworks +
hundreds of other tools

Is it easy to upgrade?
Yes, the code's purposely architected
to give developers the power to make
greater changes with less work
As a WYSIWYG component, the TinyMCE core editor and plugins can be used to build your next generation web app. It seamlessly integrates into an existing or new tech stack and can be fully customized via APIs, or used out-of-the-box as an enterprise-grade editor.
It's been built to scale, so there's full access to the underlying code and use case specific starter configs and demos to make it easier to get started - from CMS and email builders, through DMS, LMS and CRM to Workflow systems - along with detailed documentation and support.
Companies like Atlassian, IBM, Zendesk, Hubspot, Salesforce, Constant Contact and Blackboard rely on TinyMCE to help their users create rich content, documents and messages within their software and platforms.
Send this to my Product Team
Extras worth the upgrade
Extended technical support
Commercial agreements include extended support that's far beyond the experience of your community base
Commercial support agreements may include:
Online support

Phone support available

Service level agreements (SLAs)

Access to a Customer Success Manager

Professional Plan support package

Enterprise-grade support package
Commercial support agreements deliver deeper support that's tailored to business and product goals, with a US-based support team
Proprietary commercial license
Commercial agreements are perfect for businesses chasing growth and product development roadmaps
Commercial licenses combine two things:
Removal of the MIT-license requirements on the core editor, giving you the freedom to use, modify, and redistribute the code and component, while also permitting proprietary derivative works

Commercial license for premium plugins entitles you to utilize all the advanced features of TinyMCE with warranties and intellectual property protection within your own proprietary SaaS product
Commercial licenses endow customization and proprietary rights to use and sell the advanced features of TinyMCE within your product
"We were able to configure TinyMCE to do exactly what we needed to do – there was no one else out there that could do that. It definitely feels like the set-and-forget tool, and their dedicated premium support meant we never felt like we were just begging for some spare time from an otherwise overworked developer."
Geoff McQueen
|
CEO & Founder
"We just hired a new writer and within a 20-minute training session, she felt completely fine using TinyMCE and the new CMS. That used to take hours. Everything across the board has been so streamlined that we jokingly call it our 'Industrial Revolution."
Tyler Denk
|
Senior Product Lead
"TinyMCE is so easy to use, and we don't have to worry about text editing anymore. Without Tiny, we would have had to put somebody full time on building a tool like that, which could easily have cost $100,000 a year, not to mention the ongoing costs of maintaining an expensive tool."
Chris Creery
|
Senior Software Architect
"TinyMCE was transformative for our CMS. There's a lot of things that we were doing with other tools that we now don't have to because of Tiny. It cuts our development time for new sites in half, allowing us to bring our product to market quicker."
David Samuelson
|
President
TinyMCE in numbers
350M+
Downloads every single year
100M+
Products powered by TinyMCE
35M+
Hits on our CDN per day
194
Contributors on GitHub
Sources:
[1] How Tiny Saves Oasis LMS 260+ Ours A Year In Customer Support And Increases Platform Usage
[2] How Accelo Increased User Engagement To Over 85% With Tiny
[3] How DDSN Interactive Saves Thousands Of Development Hours Every Single Year With Tiny
[4] How Tiny Helps Catapult's Clients Cut Down Proposal Creation Times by 90%
[5] How Accelo Increased User Engagement To Over 85% With Tiny
[6] How DST Systems Slashed Their Development Time In Half With Tiny
Back To Top ↑