Your ultimate customizable
WYSIWYG content authoring tool
Developer trusted + Creator loved
No matter your project, TinyMCE works best
Transforms large time-consuming projects into easy manageable tasks
Get total control over your rich text editing
Before TinyMCE
Projects slip their deadlines, editing and publishing processes are a nightmare and hundreds of hours are being wasted.
After TinyMCE
What used to take hours now takes minutes, customizations are easy, launch schedules are on time and everyone's in control.
Integrating TinyMCE totally changes your content creation workflows (for the better)
The world's fastest growing startups and scaleups, largest enterprise companies, publishers, CMS's, software developers, financial institutions, healthcare and non-profits around the world use TinyMCE to save time, give their developers code control and launch products faster.
"Without Tiny, we would have had to put somebody full time on building a tool like that, which could easily have cost $100,000 a year, not to mention the ongoing costs of maintaining an expensive tool."
Chris Creery
|
Senior Software Architect, TalentMap
"I've worked with a lot of different editors, but TinyMCE was the simplest to implement. The amount of functionality you get right out of the box would be foolhardy to try and recreate."
Tim Craver
|
Manager of Development, Allied Solutions
"It was easy to integrate TinyMCE into our software and customize it to our needs. If you go for a rich text editor, this one is the industry standard. You can't go wrong picking TinyMCE."
Simon Reinhardt
|
Senior Software Developer, Hype Innovation
"The amount of money that our clients were spending on email marketing was ridiculous, but TinyMCE helped us build a more cost-effective solution. It just makes everything nice and easy for them - it's a massive difference. We wouldn't be able to work without it."
Paul Caisley
|
Founder & Digital Studio Director, El Roboto
Looking for projects that
TinyMCE can be used for?
Access use-case specific starter configs to kickstart your rich text editing project
When you need to solve your workflow,
content and editing challenges
Content creation can be challenging when…
Your editing platform doesn't have the technical capabilities you need, isn't being updated and your developers aren't able to access the code.
It's especially hard when it holds back innovation cycles and your development resources are being stretched.
Things just never get shipped.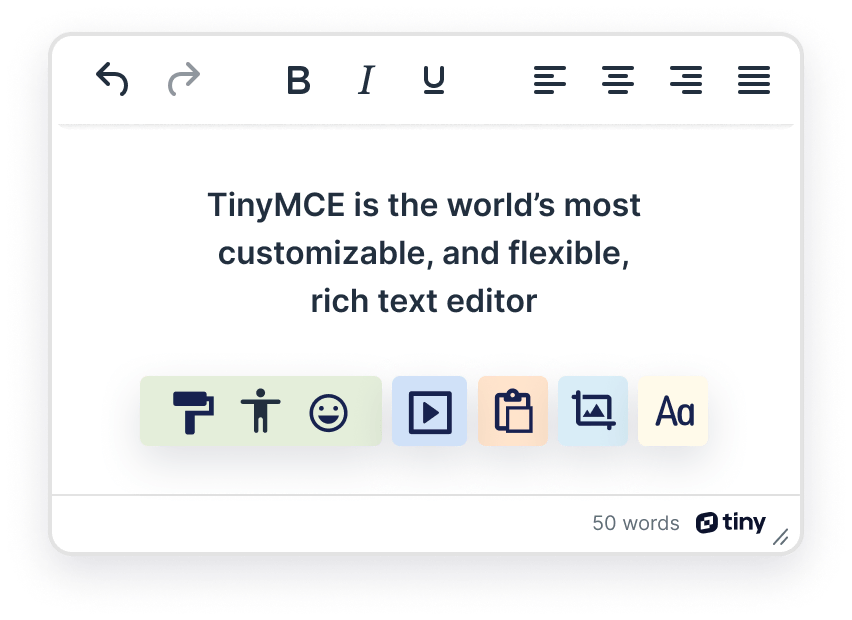 But when it's powered by TinyMCE…
You'll see dramatic changes in your workflows with increases in productivity, engagement and outputs from your team.
They'll collaborate more closely, are less reliant on IT for support and your devs won't fall into that black hole of technical debt so often.
Best of all, you can scale, fast.
See how our editor solves
your problems
Developers
You're always being asked to do more, faster, and deliver world-class code. TinyMCE is the developers' editor of choice, for that very reason. The enterprise-grade editor is customizable (if you need it to be) and maintained by experts with deep domain experience.
Engineering benefits →
Product Managers
You have a product roadmap to execute, deliverables to meet, and need to get your Engineering team working on what matters most. TinyMCE is an enterprise-grade editor out-of-the-box, with premium add-ons that allow you to scale, grow and launch quickly.
Product benefits →
Senior Management
You need your product in the market fast, generating maximum revenue with little cost. An out-of-the-box editor like TinyMCE helps you ship faster, increases ROI and developer velocity, plus deepens the engagement on your platform.
Business benefits →
Our WYSIWYG editor has totally changed workflows
Workflows and development teams change, once TinyMCE is integrated
One of the web's most trusted and downloaded platforms for 20+ years
Frameworks
12+ frameworks and 400+ flexible APIs
Easily integrates into your tech stack and enhances your editing experience. 7 first-party and 5 third-party endorsed integrations that make development easier
Explore Integrations ->
Hosting
Get TinyMCE two ways Cloud-based or Self-hosted
Get a Free API key to use TinyMCE from the Cloud or Download the SDK for use in your Self-Hosted application
Learn About Hosting ->
Customization
Modify TinyMCE to suit custom use cases
Developers have full source code control for endless customizations
Out-of-the-box
UI customisation
API customisation
Explore Customization ->
Help when and where you need it
Enterprise-Grade Support
Responsive, in-house support to help you implement, customize and troubleshoot.
Learn More ->
Community
Thousands of questions and answers updated daily on StackOverflow and Github.
Browse questions ->
Documentation
Tutorials, quickstarts, code samples and videos to help you deploy
faster.
Explore docs ->
TinyMCE in numbers
350M+
Downloads every single year
100M+
Products powered by TinyMCE
35M+
Hits on our CDN per day
194
Contributors on GitHub
Back To Top ↑