product-led growth
Why TinyMCE is the Umbraco rich text editor of choice
Published March 2nd, 2023

7 min read
For many years, TinyMCE open source has been the core rich text editor in the Umbraco CMS. Recently this long standing relationship was expanded, with TinyMCE becoming an Umbraco Technology Partner, and our premium advanced features are now available through the Umbraco marketplace. This cements TinyMCE as the Umbraco rich text editor of choice. Find out how this close partnership can improve your content team's productivity – by enriching your content engagement, accessibility and readership.
Di Mace
Marketing Communications Manager
---
There's so much ground to cover with the new Umbraco-TinyMCE partnership. So, here's a rough roadmap of what's being covered – both basics and some nitty gritty:
How does the Umbraco platform add value, as your CMS?
If the Umbraco CMS has used version 4.9 of TinyMCE for some time, what's changing with version 6.0 of TinyMCE now inside Umbraco 11?
What is Umbraco CMS?
Umbraco is a composable open source content management system (CMS) for blogging or publishing website content, and is built on ASP.NET | web framework for .NET. It's based C programming language (C#), runs on a cloud platform and since version 4.5, available under an MIT License.
Initially released in 2004 as a community-driven project, Umbraco has rapidly grown to more than 700,000 installations, and is one of the most widely used and downloaded Microsoft Web Platform systems.
The Umbraco CMS is renowned for taking the hassle out of creating and updating website content, with an easy to use interface. Its composable CMS approach and customized best-of-class add-ons, make it adaptive to different needs and uses, and allows you to design stunning user-friendly sites.
Umbraco and TinyMCE's partnership
Many longtime Umbraco users are familiar with the base functionality of TinyMCE's open source core editor, but until now, they've never been able to access its premium features to upgrade their content creation capabilities. That's all changed.
As an Umbraco Technology Partner, TinyMCE joins an exclusive group of best-in-breed solutions and collaborates with Umbraco Agency partners – a growing worldwide network of hundreds of agencies. With that comes some perks for users. From Umbraco version 11 onwards (launched in December 2022) Umbraco users are able to choose between three packages of TinyMCE's premium capabilities and add it to their Umbraco installation, with full doc support.
There's three pricing options, while the editor loads, functionality and support includes:
Professional
Cloud-based deployment that includes all the premium Productivity and Compliance features and some Collaboration features, as well as online support and 10,000 editor loads per month.
Professional Plus
Cloud-based deployment that includes all the features in the Professional package and up to 20,000 editor loads per month.
Custom
Either cloud or self-hosted deployment of a customized set of features based on your requirements. This package leverages unlimited editor loads, enterprise-grade support, commercial license, and all the Productivity, Compliance, and Collaboration features.
How Umbraco and TinyMCE work together for content creation
Umbraco has long been known as "the friendly CMS'' because it gives users and content editors an easy-to-use interface and an intuitive editing experience. Now, with the availability of TinyMCE's premium plugin integration, businesses are able to integrate content creation best practices into their workflows, as well as publish legal and accessibility compliant content.
TinyMCE is excited to work with the Umbraco technologies and its dedicated developer community, to transform the way they create content and communicate. By becoming an Umbraco Technology Partner, we're better able to help the more than 700,000 installations of the Umbraco platform, transform their content creation experience and increase the productivity of their content creation teams.
Kate Bazilevskaya
Director of Business Development and Partnerships, Tiugo Technologies
How does it work?
In the core of Umbraco 11 onwards, users continue to use the open-source version of TinyMCE 6.0 editor.
Then, once they purchase and add a package of additional premium capabilities to the Umbraco rich text editor, it makes content more efficient to create, enjoyable to read and legally compliant.
With Umbraco CMS version 11 we decided to evaluate all the relevant Open Source RTEs on the market and compare them feature by feature. We ended up choosing TinyMCE, simply because it was the most feature-rich and mature product.
Lasse Fredslund
Product Owner for CMS, at Umbraco
The impact of Umbraco core editor + TinyMCE premium plugins
Content creation can be challenging when your editor doesn't have the technical capabilities you need. It's especially hard when it holds back your content publishing cycle and your resources are being stretched. Things just never get published.
By combining the Umbraco core editor with the TinyMCE premium plugins, you'll see dramatic changes in your content creation workflows, and increases in productivity, engagement and outputs. Teams will collaborate more closely, are less reliant on IT for support, and your publishing cycle won't slow down so often.
Increased productivity
---
Decrease support tickets by up to 90%[1]
Reduce content creation time by 90%[4]
Deeper engagement
---
Increase the user engagement of a platform by 85%[2]
Increase customer gross retention and net retention[5]
What's changed in TinyMCE with version 6.0?
Given Umbraco CMS users have been using version 4.9 of TinyMCE for some time, we probably should update you on what you'll be getting with TinyMCE version 6.0 (in Umbraco version 11).
Here's the highlights:
Next-generation editing
Give users the modern editing experience they expect, plus more
Bug fixes
Stay ahead of browser changes and bugs with the latest version
Security updates
Keep your app secure by keeping your editor secure
Fresh look
A sleek new modern skin
Advanced Code Editor (Premium)
Introducing a new 'inline' mode
Accessibility Checker (Premium)
UI enhancements and WCAG rule updates
Comments (Premium)
Introducing avatars and a powerful new Comments API
Color picker
Custom color swatches and UX improvements
Improved docs
Easier navigation, better search, more demos
Premium
Merge Tags
Insert read-only merge tags into your content
Premium
Footnotes
Add footnotes with the click of a button
Premium
Spelling Autocorrect
Fix common typos as they occur
Premium
Advanced Typography
Easily apply 25+ typographic conventions
Premium
Inline CSS
Generate CSS-inlined HTML for email
Premium
Advanced Templates
Let users create their own reusable content within the editor
Umbraco rich text editor: 3 key TinyMCE value-add features
Both the Professional and Professional Plus packages contain 20+ premium plugins, including three of TinyMCE's most popular features:
PowerPaste
Spell Checker Pro
Accessibility Checker
But how do these plugins actually help you create better content, and improve the productivity of your content team?
PowerPaste clean copy-and-paste = less support tickets


Cleanly copy-pastes content from MS Word, Excel and Google Docs

Automatically cleans up rogue formatting in pasted content

Option to strip or preserve advanced formatting

Underlying HTML code doesn't break

40% support ticket decrease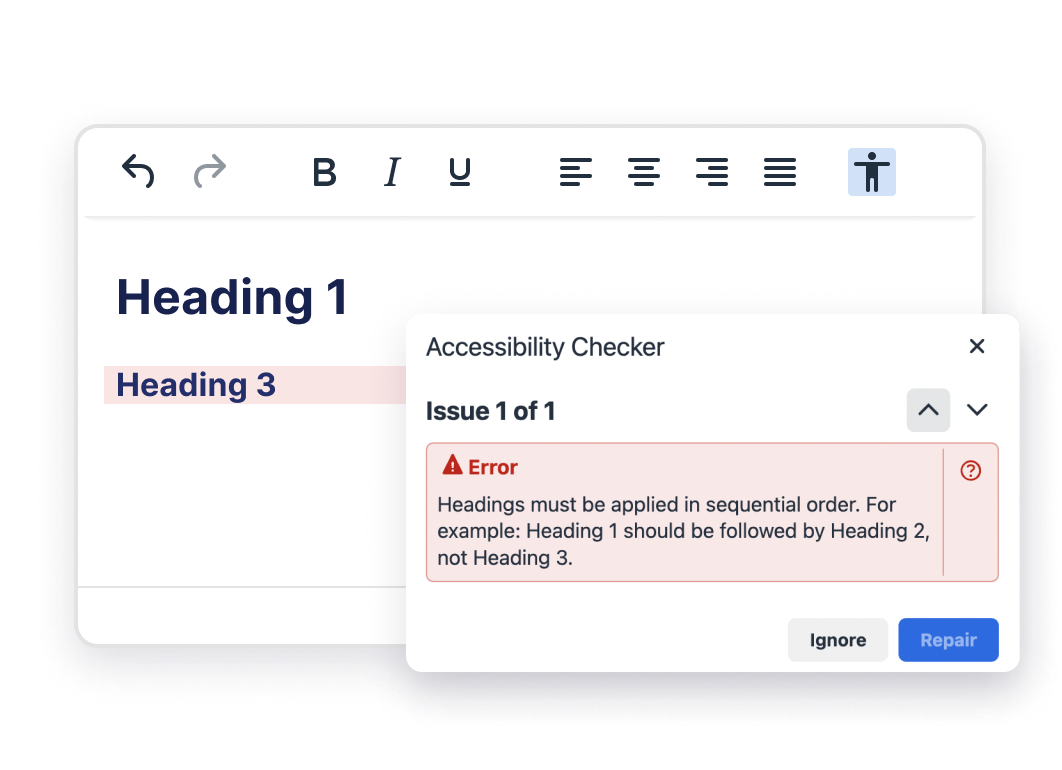 Accessibility Checker creates accessible content = regulatory compliance

Exceeds WCAG and WAI-ARIA accessibility and regulatory standards

Formats content for assistive technologies and screen readers

In-editor dialog and repair feature that corrects any errors

Control the level of accessibility needed

Stops non-compliant content being published

Avoids potential fines and lawsuits
Spell Checker Pro eliminates errors = consistent on-brand spelling

Multi-language spell checking as-you-type capabilities

Build custom dictionaries to maintain brand guidelines

Simultaneously check up to 13 languages (plus medical terminology)

Automatically activates when user types in the editor

Specify words to ignore, or add to global dictionary

Free yourself from server-side requirements
Learn more about TinyMCE's new premium plugin packages for Umbraco users and other ways the advanced capabilities enrich your content creation experience.
Sources:
[1] How Tiny Saves Oasis LMS 260+ Ours A Year In Customer Support And Increases Platform Usage
[2] How Accelo Increased User Engagement To Over 85% With Tiny
[3] How DDSN Interactive Saves Thousands Of Development Hours Every Single Year With Tiny
[4] How Tiny Helps Catapult's Clients Cut Down Proposal Creation Times by 90%
[5] How Accelo Increased User Engagement To Over 85% With Tiny
[6] How DST Systems Slashed Their Development Time In Half With Tiny
author
Di Mace
Marketing Communications Manager
Messaging strategist and copywriter whose passion lies in working with brands like Tiny, that have deep-seated values and embrace the power of their story. She gets a kick out of solving problems, loves learning new things and making stuff, every day. When she's not thinking through clever copy lines or clarifying value propositions, she's knitting amazing socks for everyone she knows.
Related Articles
Join 100,000+ developers who get regular tips & updates from the Tiny team.