Need more rich text editing
functionality faster?
Discover premium!
Maximize your content output and slash
developer coding time with our monthly
Premium subscription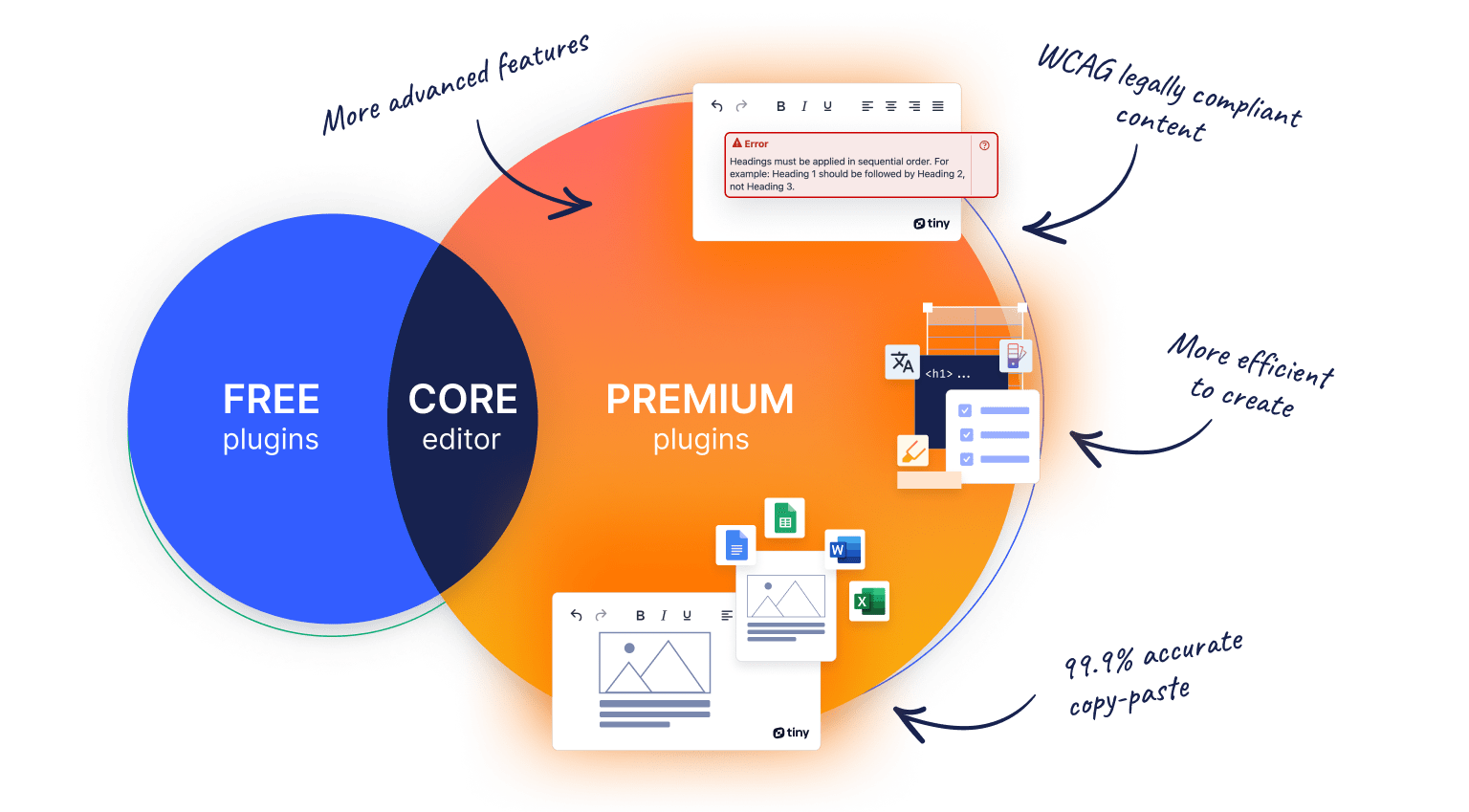 Value packed Premium
subscription
Without the right technical capabilities
content creation is hard
Get Premium functionality
Indispensable features like 99.9% accurate copy-paste, WCAG accessibility compliance, multi-language spell checking and advanced tables formatting streamline and simplify the process of document, website and content creation
Get Premium subscription
See dramatic changes in your content creation workflows and increases in productivity, engagement and outputs, with closer collaboration, less support tickets, need for IT support and faster product launch or publishing cycles
Get Premium support
There's 24/7 online support, phone support, SLAs, 10,000+ editor loads p/mth, full CSS control, and a commercial license granting customization and proprietary rights to use and sell the premium features in your own product
19+ WYSIWYG premium features
Six features worth the upgrade
Clean copy-and-paste = less support tickets
Cleanly copy-pastes content from Word, Excel and Google Docs

Has helped dev teams decrease support tickets by 40%

Automatically cleans up rogue formatting in pasted content

Option to strip or preserve advanced formatting

Underlying HTML code doesn't break

99.9% accuracy rate
Want a detailed look at TinyMCE
Premium subscription benefits
No problem, just schedule a demo call with us
Request a Premium Demo
Here's one powerful reason
to upgrade to Premium

PowerPaste is 99.9% accurate = less support tickets
Six more reasons to upgrade
to Premium subscription
Increased productivity
Decrease support tickets by up to 90%[1]
Reduce content creation time by 90%[4]
Deeper engagement
Increase the user engagement of a platform by 85%[2]
Increase customer gross retention and net retention[5]
Accelerated outputs
Increase developer velocity and save hundreds of thousands of dollars a year[3]
Halve your development time and deploy projects twice as fast[6]
Any questions about Premium?
OEM or SaaS providers can get access to custom pricing models focused on giving predictability, scalability, and can be customized to fit each use case. Please contact our sales team here to discuss your scenario.
How is the price calculated?
Cloud pricing is based on the maximum number of editor loads during a month.
Editor loads are tracked on a calendar month basis. You will be able to access your current usage, as well as historical usage, directly in your account.
What are the detailed terms?
Sources:
[1] How Tiny Saves Oasis LMS 260+ Ours A Year In Customer Support And Increases Platform Usage
[2] How Accelo Increased User Engagement To Over 85% With Tiny
[3] How DDSN Interactive Saves Thousands Of Development Hours Every Single Year With Tiny
[4] How Tiny Helps Catapult's Clients Cut Down Proposal Creation Times by 90%
[5] How Accelo Increased User Engagement To Over 85% With Tiny
[6] How DST Systems Slashed Their Development Time In Half With Tiny