Killer Ninja Stick Men From Pluto was among the early webcomics of the 90s, and recently, at the Australian Accessibility Conference, I had the pleasure of meeting its creator…
And he uses TinyMCE!
It was at the conference dinner, over a tasty combination of 'Little Lamb Tacos', 'Lollipop Buffalo Wings', and 'Pink Floss Martinis', that Scott and I struck up a conversation.
"I wrote a webcomic back in 1995 called Killer Ninja Stick Men From Pluto," he said. "I've been credited a few times as having the first purely online comic. That's a big claim...but I'd say it was one of the first."
Scott says it was loosely based on the name of two popular cartoons of the day – the Teenage Mutant Ninja Turtles and Biker Mice from Mars. One thing is for sure - the concept of the "ninja stickman" is hugely popular today. You only need to fire up Google Images to find that out.
So, who are the Killer Ninja Stick Men From Pluto? And how did the comic come about? I decided to do a little more research to find out more.
Killer Ninja Stick Men From Pluto
The Killer Ninja Stick Men From Pluto (aka KNSMFP) are a group of stick men that live on the planet Pluto. One of them decides to reveal the secret art of Ninja Stickdom to our world, resulting in him getting himself into some interesting situations. Hilarity ensues and it's all accompanied by stick figure drawings.
There are a total of eight comics in the entire series. "The animated GIF that introduces each comic added something that amazed people in the mid-1990s - a waving stickman!"
Due to its huge success and cult following, in 2017, Scott released Killer Ninja Stick Men From Pluto: 22nd Anniversary Edition available as a paperback and on Kindle.
There are even script versions for accessibility purposes, that can also be used as classroom resources for children to act them out as plays.
So, who exactly is Dr Scott Hollier?
Dr Scott Hollier specialises in the field of digital accessibility. He is an internationally-recognized researcher and speaker, and is the author of the book Outrunning the Night: a life journey of disability, determination and joy.
Scott currently holds an Adjunct Senior Lecturer position at Edith Cowan University and has also been teaching the Professional Certificate in Web Accessibility course through the University of South Australia since its inception in 2011.
In addition, Scott is an active participant in the World Wide Web Consortium (W3C) Web Accessibility Initiative (WAI) Research Questions Task Force (RQTF).
Being legally blind, Scott has both a professional and personal understanding of the importance of accessibility.
He also happens to be a longtime fan of our TinyMCE rich text editor.
How did KNSMFP come about?
Scott says the KNSMFP was created in 1995 during a university lecture on Spatial Analysis. The lecturer, while an extremely nice person, was quite dry in his lecture delivery, so in order to stop himself from falling asleep, Scott started scribbling stick drawings on a piece of paper...and the KNSMFP phenomenon was born.
"It reached a point where my friends were eagerly awaiting the next instalment as no matter how poor the jokes were in my comics, it was still more entertaining than the lecture we were in."
One of Scott's friends, who was studying design, was looking for a website project to work on to get a head start with the emerging technologies of the time – it was 1996 and the web was just starting to pick up in the public realm. They decided to team up, and Scott registered the domain ninjastickmen.com and it went live in the same year.
Why stick figures?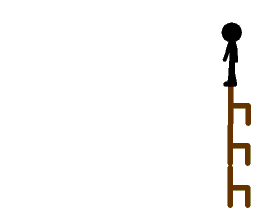 According to Scott's website:
The author of the KNSMFP, Scott Hollier, has no artistic ability whatsoever. He is a very sharing person though and felt it would be a great idea to put his stick drawings on the Internet for all to see.
Why is Scott's website designed the way it is?
The KNSMFP website has been designed to be as accessible as possible to blind and vision impaired internet users. Some of the web accessibility features include large print, the use of a white-on-black color scheme for comfortable viewing, and a script version for text browsers or text-to-speech software.
How Scott has used TinyMCE
In his own words...
"In 2016, I left my employer and decided to go solo as a digital access specialist consultant. To do so I needed to have my own website at www.hollier.info. The website needed to meet two needs: the first was that it needed to be accessible, the second was that I needed to be able to upload content by myself as a legally blind person. This was my first introduction to TinyMCE.
"I've used TinyMCE for editing a variety of content across both my comic and consultancy websites. These days I primarily use it to upload news items and blog posts to my website. A big part of my work is to keep people informed about digital access developments, so having TinyMCE has been really helpful in making that happen.
"It basically comes down to two things; it's easy to use, and it's accessible. I use a variety of assistive technologies including a screen reader, screen magnifier and high contrast theme. TinyMCE supports all of these and makes putting content online a smooth process."
The state of the ninja stickman in 2020
While Scott's Killer Ninja Stick Men From Pluto continues to have a cult following, the "ninja stickman" is everywhere. Only this morning, my ten-year-old was playing Stickman Swing by Coolmath Games, featuring a masked stickman.
There's an entire category of "stickman games" on sites like poki.com and crazygames.com. Some of the most popular ninja stickman games out now are League of Stickman 2 on Android and iOS, and Stickman Ninja 2 on Android.
And if stickman games aren't your thing, check out the entertaining stick fight videos created by Alan Becker:
What next?
If you're not yet familiar with our TinyMCE WYSIWYG HTML editor and how it provides users with a great content creation experience, you can start by checking out the demo on our home page.
TinyMCE has been designed to be accessible for the content creator, and an accessibility checker is offered as a premium plugin to ensure that content produced in the editor is accessible to your audience.
For developers, integrating TinyMCE with your own applications is easy. Get a free API Key (including a 14 day trial of all the premium plugins) and get started within minutes.
Or contact us for more information about how to upgrade your existing content platforms to take advantage of the power and simplicity provided by TinyMCE.