Over the last few weeks, we've been sharing some info and perspectives on working for startups. 
In parts 1-3 we've covered:
At this point, you should hopefully know a fair bit about startups. But, if you're still not sure whether you should go startup or not, the next step is to make a list of the pros and cons. To help you get started, we've created a quick list of potential upsides and downsides, but you'll need to tailor your list based on your situation and work preferences.
Working for startups: the pros
Innovation 
Startups often pride themselves on doing things differently and not maintaining the status quo
They focus on trying to solve a new problem
You'll likely get to work on new things that haven't been done before
Speed 
Most startups try to move fast and try a lot of different things at the same time
There's no time to be bored!
Opportunity 
If you get in early enough, you'll have more opportunities to grow with the organization
Often getting in early at a rapidly growing startup allows you to fast-track your career growth with promotions
Landing the right opportunity may mean you get offered equity
Impact
In a startup, your voice, thoughts, and opinions are more likely to be heard and acted upon
The smaller the team, the more important your job will be - even if you're in an entry-level role
Recognition 
Everybody knows your name in the organization (and probably your dog's name, too)
It's more likely that you'll get credit for the work you do
Ownership 
If you work for a very small startup, you'll likely get more opportunities to take charge of your corner of the company
In larger startups, you'll move into a position of ownership much more quickly
Experience 
Get exposed to bigger challenges and more roles in a shorter amount of time
Gain valuable experience that makes you a desirable candidate for other roles and companies, if you choose to move on
Working for startups: the cons
More risk 
A higher percentage of startups fail in the first few years
There's often more uncertainty around the long-term viability of the company (and your job)
Less money 
Many startups offer smaller salaries below market rate, unless (like Tiny) they're funded, and can offer competitive salaries in line with market rate
You may receive more perks, such as flexibility and snacks, but while nice to have, these things don't pay the bills - not to mention if the company falls on tough times, you may see these perks disappear entirely
Unclear career path
The career ladder can be a little wonky (or nonexistent)
While you'll probably get opportunities to work on cool projects, it could take a while before you're offered a promotion (especially if you switch jobs within the first few years) 
Less training
Startups will give you plenty of opportunities to learn, but it'll mostly happen on-the-job
Usually, there's very little training and you're thrown straight in the deep end (to sink or swim) by yourself
Long hours
While it's not true for every startup, the stereotype of "living to work" exists for a reason
There's nearly always more work to do and not enough hours to do it in, so you could find yourself working a few late nights and early mornings
More responsibilities 
Let's hope you look good in hats… because you'll have to wear a lot of them and not just in your specialty
Expect to feel stretched and uncomfortable on a regular basis when working at a startup 
Lack of structure
Most startups have a flat structure - while some people thrive in this environment, others will struggle
It's not always clear who's accountable to whom and who makes what decisions 
A flat structure can also bring a lack of management experience
Startup leaders are often stepping into their roles for the first time, so expect them to make some mistakes along the way
Transferable skills
You'll learn loads working at a startup and gain valuable experience (to a certain point)
But if you stay in the startup world for too long, you may find it harder to transition into other industries
So, should you join a startup?
Well, it depends. Startups can be an exciting opportunity for new developers to launch their careers and for not-so-new developers to branch out and try new things. Even if you don't get all the potential benefits we listed here, you'll almost certainly gain valuable experience when you work for a startup.
That said, there can be some drawbacks, and startup life won't be right for every developer. Especially if you have a low appetite for risk and uncertainty, and you prefer more structure. If that sounds like you, you'll likely be better off working with a bigger, more established business.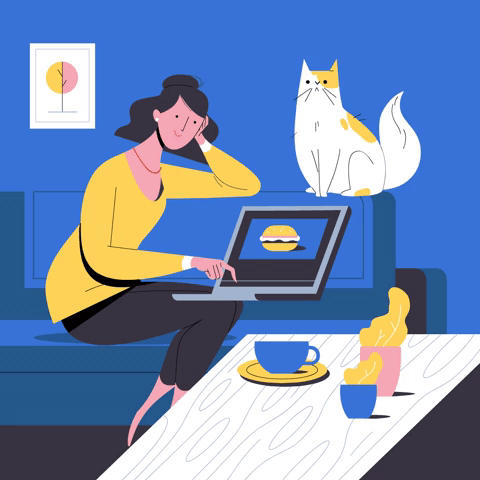 It's a tough decision (maybe even tougher than figuring out what to eat for dinner) but...
Maybe it doesn't matter as much as you think
Although there are some pretty clear differences between startups and more established companies, neither can guarantee happiness or success. Whether you choose to work with a startup or an established business, it's more important for the company to fit with your career goals and your personal values.
Research potential employers to find out as much as you can about how they treat their employees and customers, along with any other factors that are important to you. Don't be afraid to ask lots of questions during your interview. That way, you can make sure you find the best startups to work for, who'll give you the best chance of success.
Careers at Tiny
Want to work at Tiny? We're a fast-growing startup with offices in Palo Alto, Brisbane, and Umea (Sweden). We're fun, fast-moving, innovative, and yes - we pay market rates! 
If you're a talented person who'd like to be part of our team and work on some of the industry's best products, we'd love to hear from you.
Check out our open positions or follow us on Twitter to stay connected.