Content experience disruptors: What they are + how you become one
Setka's Co-founder shares why experience disruptors are winning the content wars – and how you can adjust your content design and creation processes to become one of them
Why the content experience disruptors are winning
Good experiences are about good feelings
It's time to create better blog experiences
What is a content experience disruptor?
Understanding how readers actually read
Disrupting your content experience design
Disrupting your internal content creation processes
Where to start
Why the content experience disruptors are winning
Today we're pretty much living all our lives online, so we expect a lot more from technology and digital interaction. That's why most of today's biggest innovations don't involve solving a new functional problem, but instead finding a way of doing something that provides better branded content and a better experience for the user. In other words, most innovation now comes from "experience disruptors."
For instance, taxis existed for getting people around long before Uber and Lyft. But those two disruptors made the experience better – showing us how broken the old taxi experience was. Now, most people can't imagine life without them.
CX leaders outperform "mainstream" x3 in exceeding expected business goals and beating the competition. Experience sells. Period.
Good experiences are About Good Feelings
Creating a good experience is much more about emotions, than facts. As human beings, we make emotional and irrational decisions all the time (no matter how much we want to believe otherwise). And when we're enjoying something, we're much more likely to actually explore it.
It's like when you go to a party or a networking event where you don't know anyone. Maybe you think "OK, I'll just stay for a few minutes and bounce." But you get there and the crowd is great, the food is delicious, the venue is beautiful, so you find yourself enjoying the conversations, meeting new people, and staying much longer than you expected to.
It's the same with everything else we interact with in our daily lives. We demand great experiences. And when we have a choice, we'd always prefer to spend our time and energy on something that makes us feel good.
Attractive things do work better — their attractiveness produces positive emotions, causing mental processes to be more creative, more tolerant of minor difficulties.
Whether you like it or not, people make a lot of quick assumptions based on their emotions. For instance, did you know it takes less than one second for someone to make an initial judgment of your content? While we all like to spout the idea of "don't judge the book by its cover, " in reality, people think that things that look better must be better. Somehow, we trick ourselves into thinking that something is more usable if it's aesthetically pleasing.
It's time to create better blog experiences
I'm not here to talk you out of doing any text-based content, or to introduce you to new formats you should include. There's already a pretty big list of things to do to stay on top of your game.
Despite the many predictions of doom and gloom, blogs aren't disappearing – they're a great format for sharing information and branded content – mainly because they're easy to produce and also easy to skim. It's a tactic used by most marketers, and WordPress alone has over 70,000,000 new posts each month produced by its users.
But because blogging is so popular, it's also competitive, so let's talk about how to create an outstanding reading experience with your blog content.
During our interview with John Collins, Director of Content at Intercom we learned that he has a post-it note on his laptop that says, "do less better." For them, it's not about publishing more, it's about raising the quality bar. I'd argue that's what it should be about for all content creators.
We all remember how ridiculous websites looked like not that long ago – just walls of text mixed with a bunch of links, horrible colors used, and very little white space. Can you imagine if websites or apps still looked like this below?
As we learned more about how people interact with online content (and as technology has advanced), we were able to create better experiences on the web. Brands today are running great branded content campaigns – but when it comes to owned content, it's often not as advanced.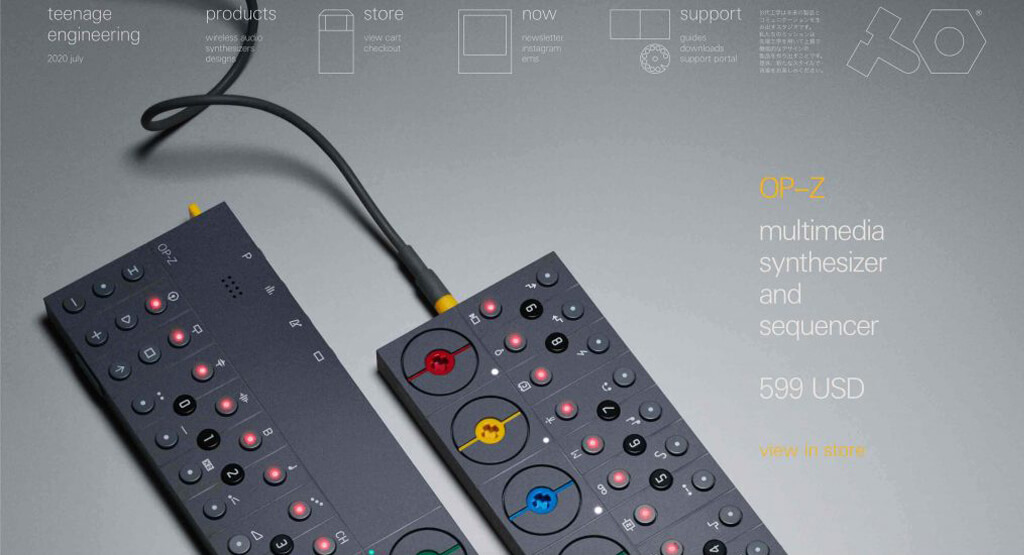 What is a content experience disruptor?
When you look at content experience disruptors and brands that are doing content really well, there's a few common elements:
BEAUTIFUL, UNIQUE LAYOUTS
QUOTES TO BREAK UP CHUNKS OF TEXT
CREATIVE USE OF INTERACTIVE ELEMENTS
However, the biggest differentiator is that those brands and disruptors have figured out that people don't read the way we think they do.
---
There's a popular metaphor – of 'desire paths' – that's used within UX (user experience). It encapsulates the idea that no matter how you design things, people act the way they want to act and they make their own paths to get what they want… as quickly and easily as possible.
As a general rule, we need to stop assuming people read content in the order we expect them to – instead, we need to design content for the path a user wants to take, rather than trying to force them along a different path.
Understanding how readers actually read

Nielsen Norman Group, a thought leader in the usability field, has studied how people read on the web by tracking their eye movements.
They've discovered that 79% of people scan the content, instead of reading your content completely. They glance at words, phrases, headings, or sections of your content – often out of order – to understand the page or find what they're looking for quickly. It may seem like laziness, but it's actually an efficient information-seeking behavior that allows users to avoid information overload. (NN/g "How People Read Online: The Eyetracking Evidence")
F-PATTERN
In the F-shaped scanning PATTERN is characterized by many fixations concentrated at the top and the left side of the page. Specifically: Users first read in a horizontal movement, usually across the upper part of the content area.
What's even more interesting is that this scanning technique changes depending on the design of your content. When confronted with a large block of text people often scan in what's called an "F–Pattern" – they read most of the way across the first few lines, but as they work their way down the page, they read less and less on each line.
But, if the content is presented with clear chunks of information, subheadings, enough white space, and thoughtful use of imagery and data visualizations, readers switch to a different pattern, paying more attention to the page content.
Understanding this gives you a better chance of creating a content experience that engages the reader.
Disrupting your content experience design
Our expert UX team at Setka has gone through a ton of research to put together a step-by-step guide with 40 best practices on how to optimize your owned content. You can check out the full report here, but the four core principles of great content design and experience we found are:
Comprehension
By thinking of your content as an interface of its own, it makes it easier for people to understand what your content is about on a high level and find what they're looking for.
Accessibility & Legibility
Making sure users can actually read and enjoy your content – no matter what device they're on – by paying careful consideration to things like font size and style, colors and contrast, and mobile optimization.
Engagement
Drawing users deeper and deeper into your content by maximizing the use of visuals, thoughtful animation, and "surprise and delight" moments in your content experience.
Differentiation
Ensuring your content doesn't just look good, but feels distinct to your brand so a reader knows exactly who's behind it. Doing that one thing, helps build trust and grows a relationship over time.
Ready to do a deep dive into the elements of designing outstanding content experiences?
Read our research-backed guide to designing great content that converts. It's full of actionable recommendations to improve your design on all fronts.
Read the guide
Disrupting your internal content creation processes
Becoming an experience disruptor doesn't just mean changing the design of your pages – it means changing your content process itself. In particular, it's making it more inclusive of different viewpoints and perspectives throughout the process.
Econsultancy and Adobe did a study of more than 17,000 marketers, and they learned that 35% of CX leaders have a multidisciplinary team focused on the customer journey together – very few "mainstream" companies structured their teams the same way.
More commonly, companies have a writer that does the text, a designer that designs layouts, and a developer that builds them. This process is actually pretty broken. It's not just inefficient, it's also standing in the way of truly great creative ideas.
A better way is to ensure that anyone with an idea is empowered to help design the best experiences for your readers and customers, at every step of the journey. With this mindset, organizations can realize the untapped potential that sits within their content teams.
An important precursor to this is equipping everyone on your team with the right set of tools. By making technology accessible to as many people as possible – across all areas of the business – it empowers creative thinkers. It also streamlines the time between having a great idea and seeing it come to life.
By democratizing content tools and taking a more collaborative approach to solving content challenges, marketing leaders can open content design to a more diverse group of people, create a more inclusive environment, and ultimately design better experiences for everyone.
Example
Here's an example of a great content process, from one of our clients, MIRO – a startup that provides remote work and collaboration tools. They've always had a largely distributed and remote content team, so from the very early days they' set up their process and tools in a way that fostered collaboration, inclusivity, and creativity – and it shows in the quality of the content they produce.
By using their own whiteboarding tool and Setka, they're able to design amazing layouts, interactive blogs, and interviews from start to finish – without having to take up the development team's time. And their publication has been nominated for the Webby awards, so its' being widely recognized for its brilliance.
Where to start
Whether you think you already have a great blog and content creation process, or are raring to start making improvements, I'd encourage you to take some time and have an honest assessment of the following:
Blog design
Are you designing your content (pages, ebooks, and blogs) for better reading experiences?
---
Performance
What are you currently measuring? Are you measuring your owned content UX the same way you do with web or landing pages?
---
Content creation process
How do you empower everyone to be involved more in content and content design?
---
Impact
What's the bigger impact you're making with your content as a brand? What's the mission behind your content strategy? Would a better experience help you to gain more trust and more comprehension to make a bigger difference?
About Setka
Setka is a no-code design tool that makes it easy for anyone to build engaging, interactive and fast-loading content that converts and delivers results. Thousands of brands, publishers and media players from around the world have worked with Setka to enrich their reader's experience and improve the ROI of their content. It's also been recognized as one of 14 global WordPress VIP Technology Partners, by delivering innovative management and editing tools that easily integrate into any CMS.
Who is Setka?
Setka is part of the world's most trusted content authoring and designing toolbox. All our Tiny tools solve big content problems – many of them are trusted and embedded in applications you use every day, from LinkedIn to Visa – and our TinyMCE authoring tool is downloaded one million times a month.
We've helped SaaS companies, large enterprises and content creation publishers build and scale their own business, as well as their users. Right now, there's tens of thousands of market-leading applications powered by Tiny, globally.
Related Articles
Join 100,000+ developers who get regular tips & updates from the Tiny team.